Major Taylor Cycling Club of Chicago Member of the Month:
APRIL: ED DIXON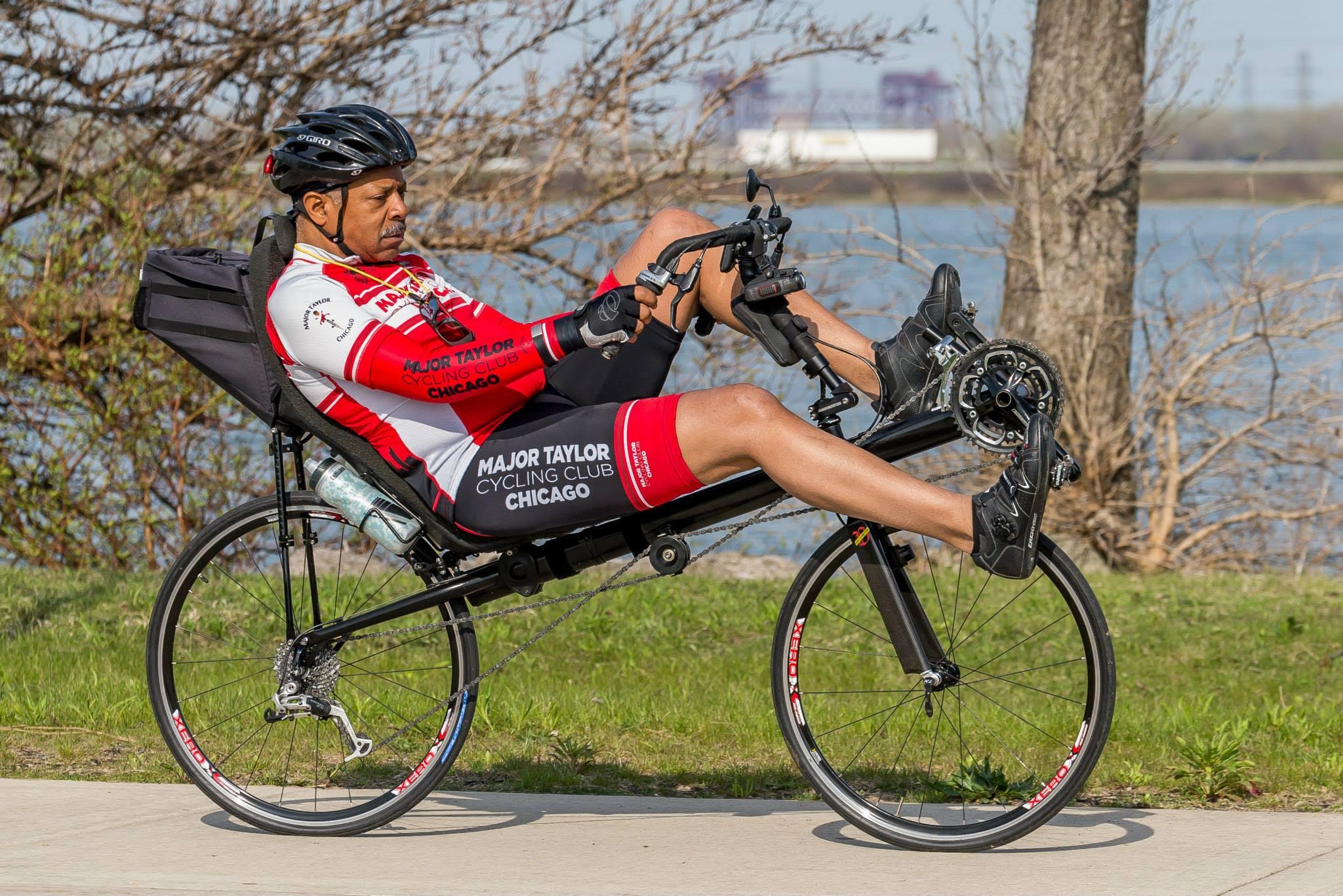 CLUB INVOLVEMENT: Volunteers as a ride leader several times a year.
SIGNATURE DETAIL: Ed often rides a recumbent bike with the pack.
Ed Dixon is a dynamic,active and long-time MTC3 member. Involved in the Club both on and off his bike, Ed is an experienced and dedicated ride leader who can't be missed as he leads the pack on his recumbent bike.
How did you get started cycling?
I began when my sister asked me "So when are you going to have that baby?" I was 240 pounds and I said, OK, it's time to get back to the right size and biking was my method of choice. I usually stay around 200 and no more 'baby jokes' from my sister, Whew!
Best biking moment?
A two-day train/bike trip with Jesse Williams and Bobby Mitchell, riding along the Levees on the Mississippi from St Louis, MO to Alton, IL. Gotta' convince some current members to accompany me on a repeat of that trip.
What are your cycling goals for this year?
To get through an entire season without season-ending injuries. I have done that the last two years and I just really want to stay healthy and ride the WHOLE season.
What would be a typical ride or training routine for you?
I don't like typical. I try to vary my rides as much as possible. From neighborhood cruises to journeys to Michigan City and Kenosha. love both trails and roads.
Any advice for the novice cyclist?
Get on a bike a ride. The first bike doesn't have to cost $5,000. Start slow with a 'beater bike' and see what kind of riding you like. Then go buy your real bike(s). Yeah, that's plural---Bikes!
Finding the right bike is important. What do you ride?
Oh don't get me started. I ride all recumbents all the time. I have several and I will never go back to uprights. No butt pain, shoulder pain, neck pain, and no numbness. When will you uprighters learn? Go recumbent and you'll never go back!
Any clothing advice?
The right clothing can make the difference between being too wet, too cold or too hot on rides. A few extra dollars spent on 'tech gear' will pay years of dividends. You don't have to buy the most expensive designer gear. Wal-Mart and Target both have plenty of runner's gear that can get you started. You can decide to invest in Bike Snob Gear later.
Keeping yourself going both on and off the bike is important. What tips do you have on nutrition?
Eat based on the type of riding you are doing. You don't need to carbo load for a 10-20 mile club ride. Unless you are riding competitively or with the Sub-Five Century gang*, normal meals are more than enough to supply the energy you need.Bring a nutrition bar or two in your bag for the return ride. Hydration is the most important element to add to your ride. Learn now to drink while rolling or grab a drink at all the lights and rest stops and you should be OK.
*A sub-five century equals riding 100 miles in under five hours.
What are some of your favorite MTC3 rides?
I enjoy the Major does Metra rides. Always new territory to investigate. I like the out of town rides too. Feels like a little vacation built around cycling..best of both worlds. I hope to do more of those this year. The sponsored rides around the city also provide a lot of variety and new faces/places/spaces.
Do you have any cool nicknames?
I call myself B3, Black, Black, Bentrider. You get it right?
What is your favorite thing about the bike lifestyle?
The friends I have made and the good times I constantly have. I also love 'giving back' by being a member of Major Taylor. I think bike advocacy is one of the most important things we do.Pay it forward for the kids and grandkids is my motivation.
What tips would you give someone who is interested in joining MTC3?
Come and ride with us on a few different kinds of rides. Listen to all the trash talking and joshing and laughter and fun. You then come to a meeting and pay your dues. Pretty easy, huh?
Find out more about Major Taylor Chicago Cycling Club